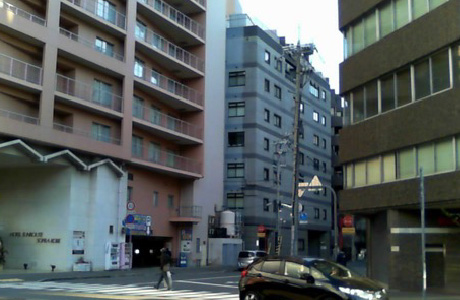 Zenno's history from its establishment in 1915 to the present
Zenno & Co., Ltd. (called Zenno Shoten back then) was established at 1-7 Isogamidori in Kobe. It was located in the area where the G33 Hotel Sunroute Sopra Kobe and Kongou Building are located today. It is Zenno's birthplace.
Mar. 1915

Shutaro Zenno founded Zenno Shoten in Kobe, and started export of waste yarn and carded products and sales of railroad cars.

1935

Kuhachizo Zenno, the eldest son of the founder, succeeded the family business.

Mar. 1945

The office moved to Sannomiya, Ikuta-ku, Kobe, and the factory and warehouse moved to Naruo, Nishinomiya after war damage.
May 1947

The company was incorporated as a private limited company.

Jan. 1952

The Osaka branch opened at the location of the company's present headquarters.

Oct. 1952

The company was reorganized into a joint-stock company.
1967

The Chemical Fiber department was newly established to start domestic sales of raw materials of chemical and synthetic fibers. The company also started sales of imported cotton.

Mar. 1968

The company's headquarters moved to its present location.

1969

The Nonwoven department was newly established to start sales primarily of raw materials for nonwoven fabrics and nonwoven fabric products.
1970

The Interior division was newly established to start sales primarily of raw material of fibers,spinning yarns,and final products.

1982

Susumu Zenno, the eldest son of the second president, became the third president.

Jul. 1989

The company was renamed as Zenno and Co., Ltd.

Oct. 1995

Siam Zenno Co., Ltd. was established in Bangkok, Thailand.

Bangkok city
Oct. 2007

Susumu Zenno, the third president was promoted as chairman, and Ryo Zenno was inaugurated as fourth president.

Feb. 2012

Zenno (Tianjin) Co., Ltd. was established in Tianjin, China.

Tianjin city
Jun. 2015

PT. Zenno Trading Indonesia was established in Surabaya, Indonesia.

Indonesia city

Jan. 2022

The number of sales departments was changed to 4.
◆ Global Fiber Sales
◆ Functional Products Sales Dept
◆ Machinery Products Dept
◆ Material Solution Dept